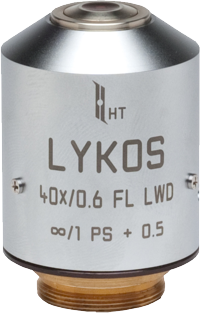 The Newest in Laser Technology for Clinical Applications
300 mW laser power and one microsecond pulse length
Laser and RED-i® target locator built into 40x objective
Multi-pulse mode for fast and easy trophectoderm biopsy
High image quality
Improved working distance – use with or without glass heater
No laser alignment needed
Similar in size to standard objectives
Compatible with all major microscope models
Laser and RED-i® Target Locator built into 40x Objective
Laser
The LYKOS® features a 1460 nm, 300mW Class 1 laser built-into a custom designed objective 40x objective.
Objective Specifications:
40x, 0.60 N.A., I.R.
High transmission in the UV [>350 nm], visible and near-infrared, long working distance
Infinity corrected for 1 mm thick polystyrene Petri Dish, on 500 μm glass heating plate. A nose cap corrector is available if use without the glass heating plate is required.
Working Distance: 1.7 mm to glass heater plate
Parfocality: < 40 µm
Compatibility: 3 RMS thread adapters permit installation on all major microscope models
RED-i®
The RED-i speeds workflow by allowing you to position the cell under the laser beam without looking at the monitor.
Built into the LYKOS laser objective
Red LED indicator spot visible through microscope eyepieces
Adjustable brightness level
Always remains in focus
Laser beam is NOT transmitted through eyepieces – SAFE for your eyes
Simple alignment process
Introducing the Multi-Pulse Feature for the LYKOS Laser System
The Multi-Pulse software gives our lasers an automated, precise tool that enables rapid trophectoderm biopsy.
The Multi-Pulse feature provides rapid, repeated firing of the laser to facilitate removal of cells from an embryo during the trophectoderm biopsy process. Trophectoderm biopsy is considered one of the best methods used to remove cells from the embryos of patients undergoing pre-implantation genetic diagnosis (PGD) to screen for genetic disease or aneuploidy.
Prior to release of the Multi-pulse software, individual laser shots were required to weaken or break the junctions between the trophectoderm cells so that they can be aspirated into the biopsy micropipette. The significant advantage of Multi-Pulse is that one press of the remote footswitch initiates multiple laser pulses in rapid succession for fast and easy cell separation, thereby limiting the amount of time the embryo spends outside the incubator.
Professor Barry Behr, Co-Director, REI/IVF Program, Department of Obstetrics and Gynecology at the Stanford University School of Medicine, a long-time user of Hamilton Thorne lasers and a pioneer in trophectoderm biopsy, commented, "The Multi-Pulse capability, which provides the user with the ability to automatically fire the laser multiple times at relatively low power, will contribute significantly to the efficiency and safety of trophectoderm biopsy."