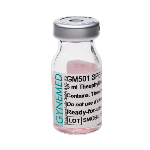 GM501 SpermMobil is a theophylline based media that supports activation of immotile or poorly motile sperms from fresh and frozen ejaculates or testicular biopsies.
BENEFITS
the ready-to-use product fulfills the EU Guidelines
significantly reduces time for identification and injection of viable sperms in TESE cases
it may serve as a viability control and could replace other less exact viability tests
GM501 SpermMobil contains theophylline and is supplied with gentamicin and phenolred. It is a ready-to-use HEPES-buffered medium containing low bicarbonate. The medium's pH is stable in air and should be warmed to 37°C before use.
Now TGA listed – ARTG ID 390549.
Product Code: 4 GM 501SMOBIL5      Shelf life 9 months after production.