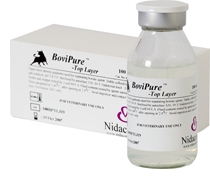 A new trend in the cattle breeding industry is the increasing phenomenon of in vitro production of bovine embryos. These embryos are also being imported and exported all over the world.
The risk of transfer of bacteria and viruses, or even prions, from one country to another and one population to another is increasing and standard quality procedures are necessary.
Why not take advantage of the safety thinking already in place within the human ART industry? We can learn very much from the standardised procedures that are already in place for the handling of human embryos and spermatozoa.
The Nidacon range of animal products has been developed utilising our experience in the human ART industry. We take full advantage of our more than 10-years of research in human infertility when we develop optimised products for the bovine breeding industry.
BoviPure™ together with BoviDilute™ is a density gradient system used for separating and purifying bovine spermatozoa.
Dilute BoviPure™ with BoviDilute™ to desired concentrations to form either a one-layer- or a two-layer gradient for density centriguation (see instructions for use). The pellet retrieved after centrifugation contains only normal purified spermatozoa
Pack sizes and catalogue numbers:
BoviPure 100ml    NI BP-100
BoviDilute 100ml BD-100
BoviWash 100ml BW-100