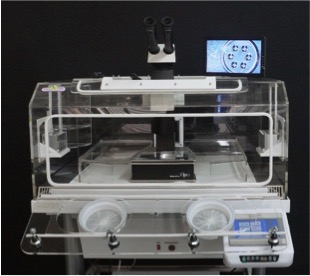 Creating the optimum environment when assessing and handling Oocytes and embryos.
Cell-Tek chambers are an essential part of good laboratory practise when visually examining, manipulating, transferring or assessing oocytes and embryos for in-vitro fertilisation (IVF). They provide.
Stable temperature control throughout the chamber including all internal components.
Controlled CO2 enriched environment maintaining optimum PH of tissue media
VOC removal from circulated air by unique UV photocatalytic module.
HEPA & Carbon filtered airflow providing a clean room environment.
Humidification control to 70% RH
Purpose built microscopes configured to give ergonomic observation.
Programmable instrument height adjustment to quickly suite multiple operators.
Single fold down touch screen control of all parameters and performance.
Optional Accessories:
Click on the images to enlarge them.