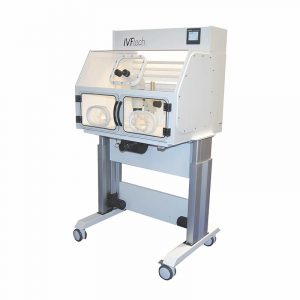 The IVFtech Unica is a semi closed system.
Careful gamete and embryo manipulation has always been a key element of laboratory embryology and has contributed substantially to the success of many assisted reproduction procedures.
Suboptimal in vitro conditions may both distress the competence to develop in vitro and lead to irreversible long-term alterations in the characteristics of the foetal and postnatal growth. Therefore, caution should be taken in the handling and manipulation of the oocytes and early embryos in order to achieve a stable biological atmosphere, which creates optimal conditions for embryo growth.
The employment of an IVF controlled-atmosphere workstation has been proposed in order to meet the special requirements of oocyte and embryo handling during IVF daily routine.
This self-contained chamber reproduces the incubator conditions allowing the embryologists to perform oocyte and embryo manipulation while minimizing alterations of the environmental conditions (temperature changes, gas composition, culture medium osmolarity and pH) and preserving the embryo developmental potential.
Options
Table top:
Standard heat 450 x 650mm
Witness preparation flush
Fixed or electrical adjustable stand
Monitor to be placed or integrated on top of the Unica
Different access ports
Side doors
Bracket for gasflask