Introducing the IVOS II Clinical – A Sleek New Look plus Powerful Features Designed to take CASA into the Future.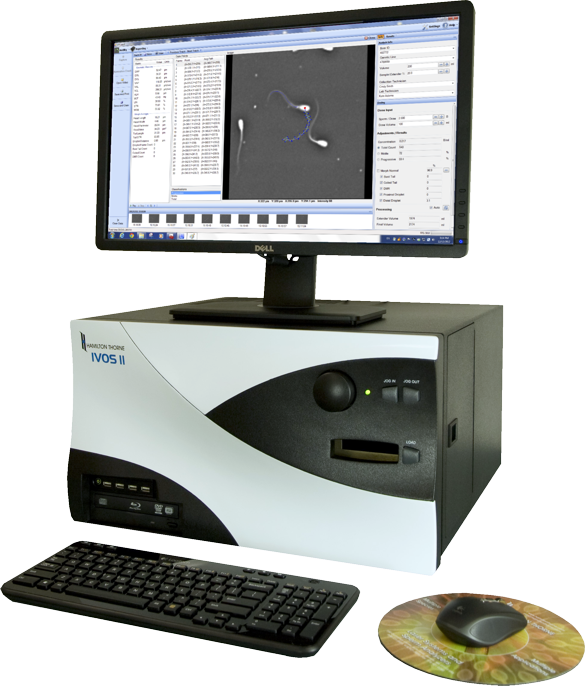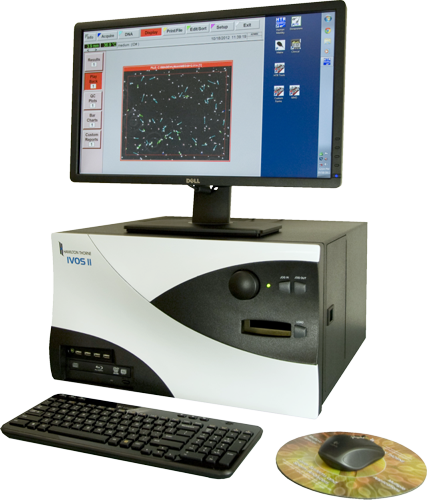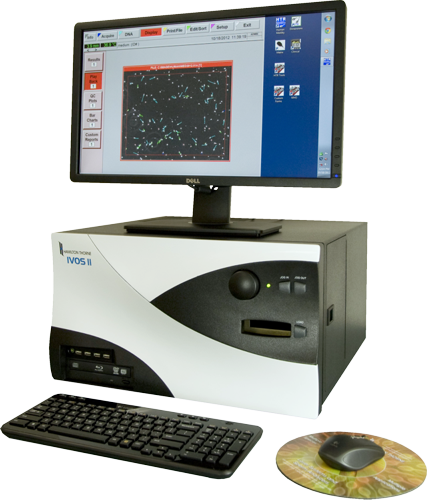 Hamilton Thorne is pleased to announce the release of the IVOS II hardware platform. With this new design, we commit to the future development of the IVOS CASA system. The IVOS II Clinical may be used with the
legacy Version 14
software (for USA) and the
Human Motility II
software.
Smoother, faster integrated stage featuring acceleration and deceleration. Thanks to a new stage drive motor, the IVOS stage now can move from maximum speed down to start speed in the blink of an eye.
Enhanced processing power is supplied by the latest generation of Intel technology – the "i Series." With a minimum of 4 simultaneous processing threads, the IVOS is faster than ever.
A rearrangement of user controls and the addition of inputs on the IVOS front panel make for a better user experience:

On / Off switch added to the front panel
Stage LOAD button separated from the JOG buttons to avoid inadvertent stage loading/unloading.
Four high speed USB 2.0 ports for easy data transfer and connection to external devices
Blu-ray DVD burner/player – save up to 25 GB of data to Blu-ray Disc

Ruggedized Medical wide range AC/DC power supply
High definition, wide screen monitor
Wireless keyboard and mouse means less work area clutter
1 Terabyte 6.0 GB/sec 7200 RPM hard drive
Dual Gigabit Ethernet ports
Dual digital monitor DVI connections plus display port connection
RAID drive option allows dual mirrored drive for reliability
Windows 8
Ease of Use
The IVOS II hardware and software have been designed to provide users with a system that offers high-end performance while maintaining its ease of use. The intuitive Windows-based software promotes fast learning and quickly increases the confidence level of users. Since the settings for the integrated optics are made through the software, mechanical adjustments are rarely required. With a minimum investment of time, even users unfamiliar with computers will be performing fast, accurate and reliable sperm analyses. You don't need to be a computer expert to analyze sperm with the IVOS II.
Integrated Optics
As the only sperm analysis system with an internal optical system, the IVOS II offers distinct advantages to the sperm analysis laboratory. In contrast to the continuous illumination of a microscope, the IVOS uses illumination strobed at 1/1000 of a second to visualize sperm motion. This strobed illumination eliminates motion-related blurring along the length of the sperm head, resulting in precise sperm tracking. By adding an image capture rate of 60 frames per second, you get the highest level of accuracy available today for measuring sperm velocities and motion parameters. For added flexibility, the IVOS performs analyses under three types of internal, strobed illumination: phase contrast, bright field and multi-wavelength fluorescence.
Automated, Internal, Heated Specimen Stage
As part of the integrated optical system, the unique computer controlled specimen stage of the IVOS II provides precise control of temperature and position during analysis. The stage temperature, which may be set from ambient to 40°C, remains constant to within 0.5°C. For selection of analysis fields, the stage may be programmed for either manual or automatic field selection. For at-a-glance monitoring, the current stage temperature and position are continuously shown on screen as a real-time, digital display. The IVOS stage accommodates and automatically adjusts for commonly used analysis chambers, such as disposable fixed-depth slides, cannulas and Makler chambers. In addition, a user-defined chamber setting is available.