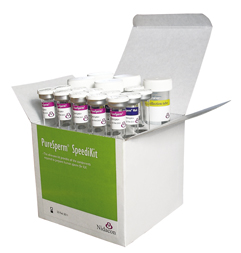 Many clinicians in small clinics or private practices are looking for a safe and effective method of preparing sperm for intra-uterine insemination.
They are unsure of their ability to layer a density gradient correctly to achieve optimal results. However, they also know the "swim-up" does not remove sperm with abnormal morphology or damaged DNA, and does not separate out bacteria and viruses from the sperm preparation. So what should they use?
Now there is an alternative method of preparing human sperm for IUI – the PureSperm® SpeediKit. The kit contains sufficient sperm preparation materials for ten patients, already dispensed in Type 1 glass centrifuge tubes. In addition, we provide 10 semen collective tubes, one for each patient, and empty tubes to balance the centrifuge rotor.
Components
Sodium chloride
Potassium chloride
Magnesium sulphate
Potassium dihydrogen phosphate
Sodium bicarbonate
EDTA
hSA Human serum albumin
Sodium citrate
Glucose
Calcium lactate
Sodium pyruvate
HEPES
Purified water
Silane-coated silica
Tubes and stoppers are M.E.A. tested
Storage and Stability
Store at 2 to 30ºC and avoid temperatures above or below these values. Under these conditions the contents of the kit have a shelf-life of minimum 12 months from production. The expiry date is shown on both tubes and cartons. Shelf-life on the product label applies when the product is stored according to manufacturer's recommendations.
No antibiotics, unstable additives or preservatives have been added by the manufacturer to PureSperm®SpeediKit
Precautions and Warnings
When retrieving the sperm pellet, follow the instructions given in the pack insert to avoid inadvertent contamination
Use aseptic procedures at all times
If available, use sealed buckets during centrifugation to avoid creation of aerosols
Clean accidental spills using a dampened cloth or paper. PureSperm®SpeediKit causes floors and benches to be extremely slippery
PureSperm® SpeediKit does not represent any kind of fire or combustion hazard. A material safety data sheet is available from the distributor or manufacturer(see nidacon.com)
Do not use any solution which shows evidence of bacterial contamination
Do not use contents if tamper-evident seal is broken
Federal Law (USA) restricts this device to sale by or on the order of a physician
Please check for regulatory compliance governing the use of ART products in your country
Recommendations for viscous samples
It can be extremely difficult to obtain good yields of motile sperm from highly viscous semen samples. Nidacon has developed a method that could be helpful to you in the lab. You simply add PureSperm®Buffer to the ejaculate, incubate at 37°C for 15-30 minutes and the sample is ready to use. This will give you a much higher proportion of motile sperm.
Pack sizes and catalogue number:
Kit supplied ready to use for 10 patients
Cat No. NI PSSK-010