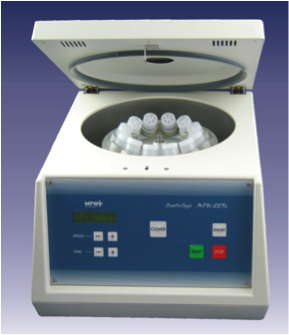 MPW 223e is a modern tabletop laboratory centrifuge.
We have chosen this model as it is ideal for spinning semen. It has a swing-out rotor and buckets for 15 and 50ml conical tubes. It provides a clean separation when using our Nidacon gradients and leaves a clean sperm pellet in the tip of the tube. Other tubes can be spun if required.
The MPW 223e is a modern bench top centrifuge that incorporates a maintenance free brushless motor. Its structure guarantees easy service and safe work operation with auto lid lock during spin. The microprocessor controlled speed regulation provides uniform preselected speed regulation by RPM or G-Force.
LCD display indicates the actual performance of speed, time, and acceleration or deceleration. A short spin button allows for quick spins without setting the regulator.
Economically priced depending on bucket and insert configuration
Technical specifications
Motor 120 Watt
Speed 300-4000 RPM or 2320 G-Force
Timer 1-99 minutes
Compact bench top size 435 X 355 X 270 cm (footprint 43 X35 cm)
Weight 10.5 Kg
RPM and RCF indication
Rotor and Bucket Options for 50 and 15ml conical tubes
Rotor
Buckets
Inserts
Capacity
Hygienically sealed screw cap
4x50ML conical capped tubes

30/35x120mm L

4×50 ml
A
MP 12183
MP 13184C
MP 14189
Hygienically sealed screw cap
4x15ML conical capped tubes

17/21×120 mm L

4 x 15ml
B


MP 12183
MP 13184C
MP 142024
Plain un-sealed tube holders

Fit rotor MP 12183

4 x 50 ml
C


MP 12183
Max 4 x 50 ML
MP 13266
8 x 15 ml
D


MP 12183
Max 8 x 15 ML
MP 13247C